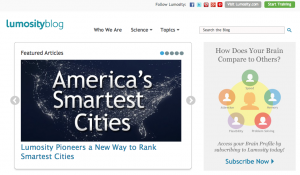 This is a post I've gone back and forth with for a while.
I don't really want to call out companies.
After all, they've started blogs, which is more than others have done. It shows a commitment to experimenting with a content strategy that will bring in more traffic and customers.
And you never know the real reason that a blog was abandoned. In my experience and what we hear all the time from our clients it's the fact that blogging is much more work than people realize. That's why there are a number of abandoned blogs out there.
The point of this post is not to call out any company. It's to use their public business blogs as an example of what can happen if you're not prepared for the work it takes to get the great results you can get.
1. Amazon Associates Blog
It had been three months since there was an update on The Official Amazon Associates Blog. I think they have more opportunity with this blog than they're taking advantage of by just sharing occasional sales and discounts.
There is a lot of information you could provide to affiliates to make it easier for them to sell your products. And you can focus on much more than just sales. You could even share affiliate success stories for other affiliates to use as inspiration.
2. 29 Prime
The blog for this advertising and marketing company hasn't been updated since July. Maybe they've been getting really busy and haven't had the time. They wouldn't be the only ones.
3. AdRoll
The blog hasn't been updated for a month now. Is it just a month of inactivity or is it a sign of an abandoned blog? They had a steady track record for the most part until the most recent month or so.
4. Trada
This PPC company hasn't updated their blog since May. They have some really great archives. Hopefully they can come back to posting on their blog because there is a big need for information around PPC and online advertising.
5. BeenVerified
This is one of the fasted growing companies in the US. Their service allows you to perform background checks. Their blog hasn't been updated since February…2012.
6. Lumosity
Talk about an opportunity for a really cool blog. They have some really great posts in their archive. I've been checking out a few, but they haven't had an update since July 16th.
7. PSE Archery
Coming up on two months without a post. It's primetime to be getting the hunters ready for the season with some updates. Can they get back on track with the blog? They have been consistent for the most part.
8. Trophy Ridge
This is one of the biggest companies in the hunting industry. They promote their blog on the homepage, but the last post was in April 2012. Will they ever bring it up or have they moved on?
9. Abbyson Living
Everybody is looking for information on how to make their home better. Furniture companies have a lot of opportunity to attract more companies including Abbyson Living. Their blog has been inactive since July.
10. Livestream
New updates about every week or two until Sept. Now the blog hasn't had any updates for a month. And the posts have been pretty basic. There is much more they could do to get people interested in using live video especially with how popular online video is becoming.
Parting Links
Instead of leaving you with 10 companies that haven't blogged in a while we'll share some of the companies that have great and active blogs: